House Cleaning Services In & Near Commack, NY
Keeping the house environment clean and healthy is the foremost responsibility of every homeowner. Whether you live in a house, apartment, mansion, or condo, you should never ignore its proper cleaning on a regular basis.
Unclean and dirty homes become a breeding ground of harmful germs and bacteria over time, which leads to different types of allergies and infections. If you truly care for the well-being of your family, you will never want a messy and dirty home.
Modern-day parents hardly find too much time to devote to the thorough cleaning of their house or apartment. Apart from going to the office, there are tons of other obligations that frequently demand time.
This is exactly where house cleaning services come into play. Due to the lack of time and the physical effort that cleaning requires, most parents and families turn to professional cleaning companies. Compared to DIY cleaning, pro cleaners possess a multitude of skills and techniques to carry out the cleaning of the kitchen, bedroom, living room, and bathroom of a house. A professional cleaning company knows its job too well and, therefore, it is the ideal choice for all those homeowners who understand the difference between "cleaning for appearance" and "cleaning for health." When you are out to hire residential cleaners, you should always hire one that has specialization in the job and carries ample experience.
VV Maids: A Highly Reputed Service for Home Cleaning
Located in Commack, NY, VV Maids offers top-quality cleaning for single-family houses, apartments, bungalows, castles, mansions, condos, etc. Over the years, we have served the cleaning needs of a wide range of clients. Our maids and cleaners have a strong passion for cleaning which turns your residence into a neat and healthy space where you can enjoy living with your family.
We have built our reputation through hard work, the latest cleaning techniques, and a great customer experience. From day one, we have been striving to keep our reputation intact and improve our services even more.
Our house cleaning services include:
Cleaning the furniture and the upholstery

Cleaning baseboards and window frames

Dusting the shelves, TV screens, and frames

Wiping down ceiling fans and light fixtures

Cleaning countertops, cabinets, and door knobs

Cleaning mirrors and glasses

Dusting lampshades and decorative items

Cleaning blinds

Sanitizing trash cans and high-touch items

Scrubbing and washing all floors
These are only some of the tasks that we perform as part of our detailed house cleaning services. All our maids have a keen eye for detail and ensure that not a single object or spot in the house is left uncleaned.
Unlike fly-by-night house cleaners, we delve deep into the task and reach every item, surface, or area where dust, dirt, and pathogens may have gathered.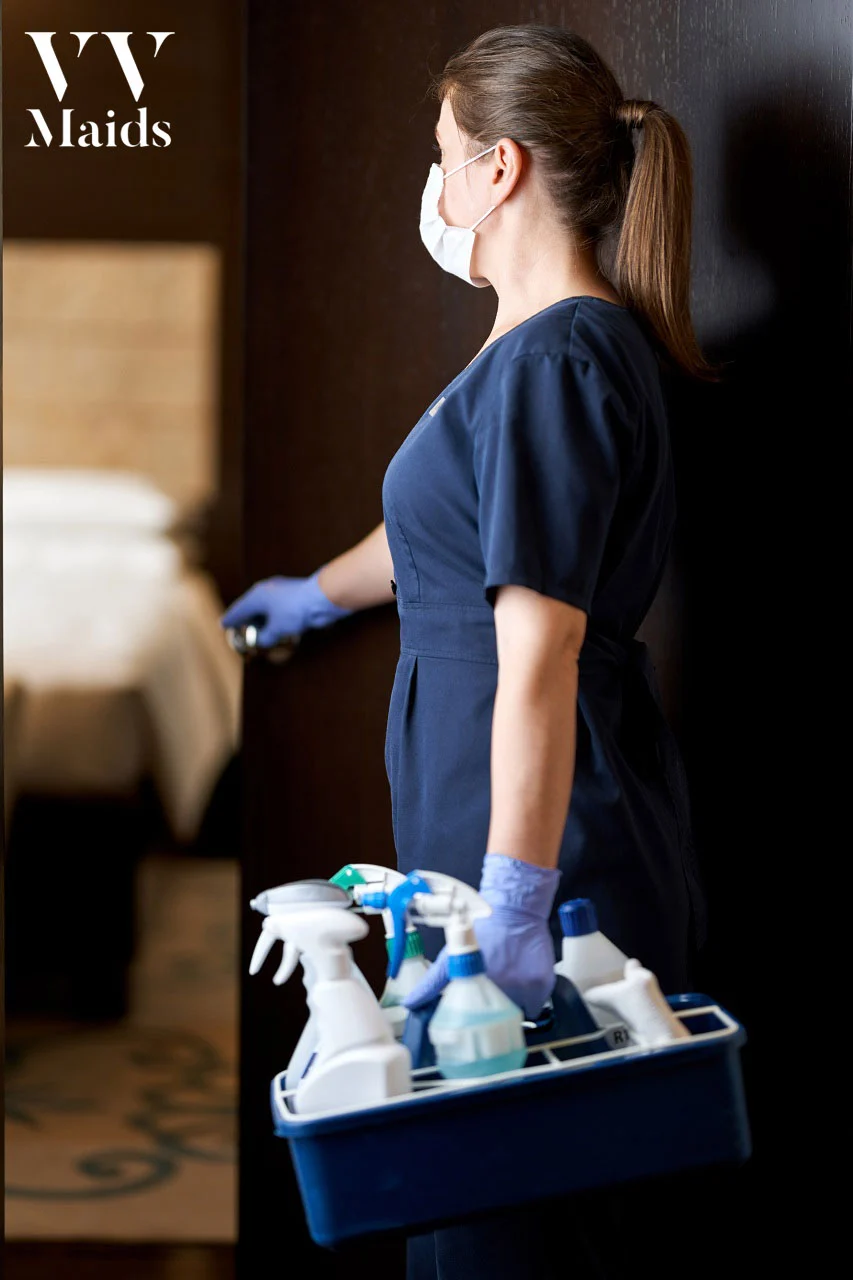 We do not clean an item just from the outside but go behind it and under it so that all dust particles and every bit of dirt can be eliminated from the house. Deep cleaning requires special skills and a host of tips and tricks as well as the use of the right set of tools. We take every cleaning task with seriousness and focus on turning homes into bright and shiny spaces where you can live and breathe in peace.
Why You Should Choose Our Residential Cleaning Service
You may think that selecting a house cleaning service is simple. Actually, it is not. If you are not aware of the qualities that make a cleaning company worth hiring, you will end up working with the wrong one.  
Here is why you should hire us:
Certified Maids:
You should avoid working with a company which does not have certified maids. At VV Maids, all our house cleaners are certified. In fact, each of them has been background-checked. This means you can always feel confident that your house or apartment is in the right hands.
Insurance:
Before you hire house cleaning services, you should first find out whether they have insurance. VV Maids is a home cleaning company which offers insured and bonded maids. Having insurance means your property and your family is protected in the case of damage or injury.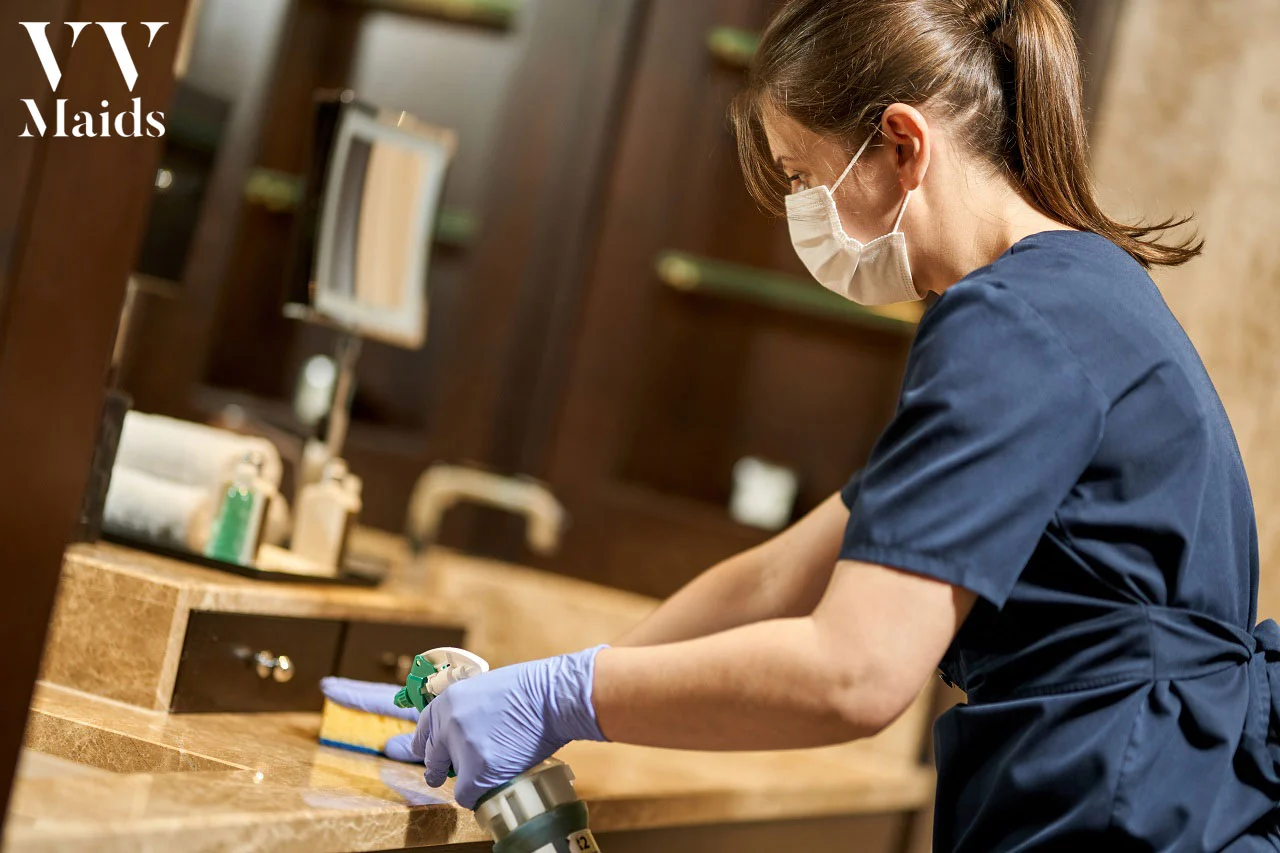 References:
A list of 'happy' past clients is solid proof that a cleaning company is worth hiring. VV Maids takes pride in its long list of clients who have appreciated our hard work and dedication and have been satisfied with the quality of our work. Feel free to check out our online reviews and words of appreciation from customers. We are confident that you too will soon become our next happy and satisfied client.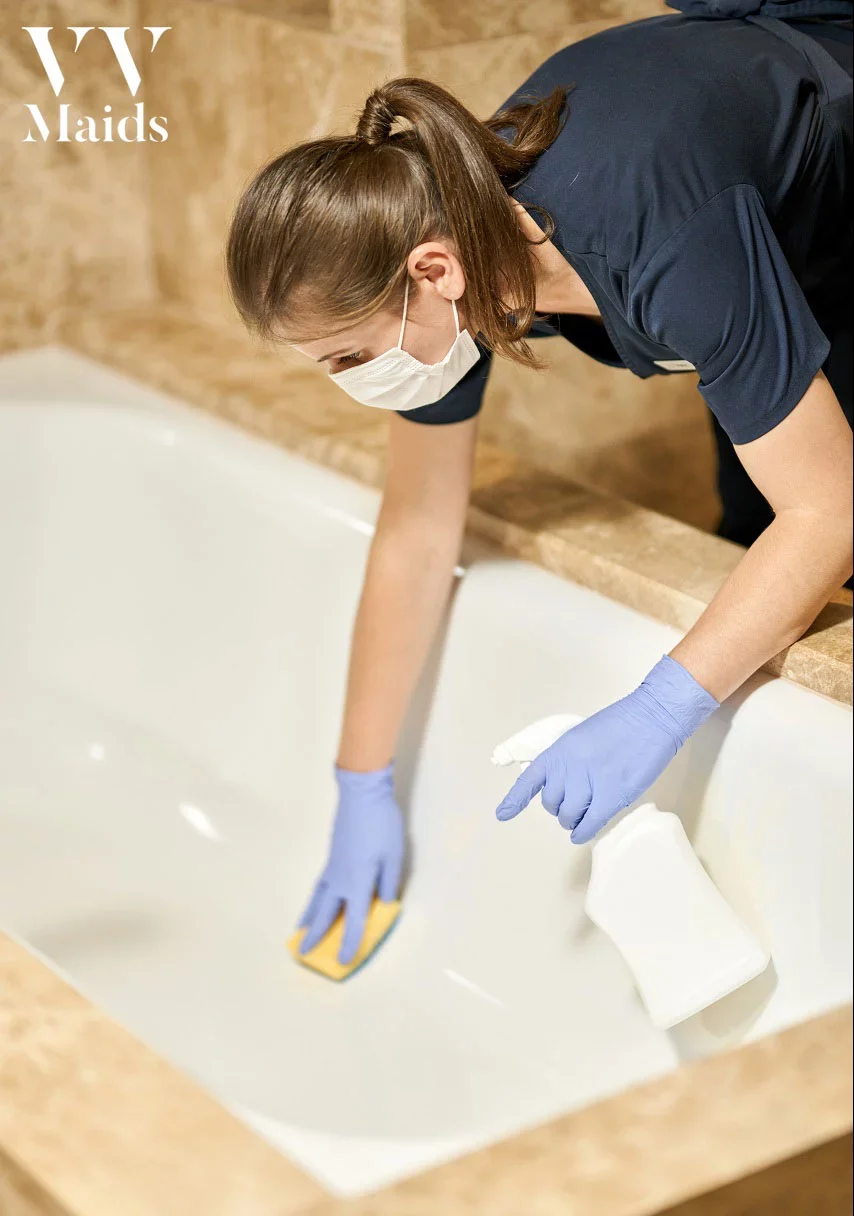 Experience:
We have been in the home cleaning business for more than a decade. Over the years, we have not just learned the varying cleaning needs of each homeowner, but we have also mastered the art of thoroughly cleaning every area, surface, and object inside a house, apartment, condo, etc.
Home cleaning is a challenging job that only professionals with extensive expertise can do well. We know different hacks and techniques to perform even the hardest cleaning tasks, making us the best option for you to hire.
Our knowledge, expertise, and work ethic have brought us lots of appreciation and all clients are assured that their houses are in good hands.
Flexibility:
Homeowners always expect house cleaners to be flexible with their timings and schedules. At VV Maids, we understand your busy life, unique schedule, and family requirements. That is why we offer you to choose days and times which fit your hectic work schedule. 
We are in the cleaning business not to make a fast buck. We do it with great passion and aim to create a healthy living environment for every family. We always encourage you to ask questions that you may have regarding our services, what to expect, and the cost of house cleaning.
We perform every project with a high level of dedication, attention, and professionalism. Our first priority is our clients' comfort and we will always try our best to provide you with high-quality services.
Let Us Know About Your Home Cleaning Needs
Now that you have found an ideal cleaning company, it is time to have a discussion so that both of us are on the same page. You can reach out to VV Maids via phone call or email.
Let us know what your specific needs are so that we can come up with a perfect cleaning plan for your home. Our services are available to all homeowners who reside in or near Commack, NY.