Post-Construction Cleaning Services in & Near Commack, NY
Whether it is new construction or renovation of a space, these projects leave a lot of mess behind. Unused scraps, waste materials, dust, and dirt remain scattered all around. Unless all this mess is cleared and cleaned up, the space is not ready for use or business operation. That is exactly where post-construction cleaning services play a key role. With a professional construction cleanup company, you will ensure that the house or apartment is thoroughly clean from one corner to another. Post construction cleaning is a job, which requires a lot of physical labor and skills as well as great attention to detail. That is why you should assign this type of cleaning to only a professional cleaning service or company.
VVMaids specializes in the post-construction cleanup for a wide range of residential and commercial buildings and spaces. We provide professional cleaning for clients located in and near Commack, NY.
What Our Post-Construction Cleaning Includes
Regardless of the size of the task, our team of cleaners remains fully committed to carrying out the cleaning in a professional manner. Our professionals clean every area and room with great attention to detail. Above all, we complete every project in a manner that is healthy and safe for the occupants.
Here is a quick look at what our cleaning services include:
Removal of unused building materials, leftovers, dust, and dirt

Sweeping all floors, rugs, and carpets

Vacuuming and dusting all walls, ceilings, and floors

Cleaning of doors, windows, baseboards, frames

Cleaning of tiles and brickwork

Removal of stickers from new installations and items

Thorough cleaning of every room in the house
Our cleaning services focus on making the entire space entirely dust-free and spotless after construction or remodeling work is over. We clean and tidy up even those spaces that are usually overlooked.
Key Phases of Post-Construction and Post-Renovation Cleanup
At VVMaids, we have a well-defined procedure in place to carry out the entire cleanup after construction or renovation work is over. There are three phases in which our highly skilled and trained cleaners clean every area and space of a newly constructed or newly renovated house, apartment, office, etc.
Rough Clean
This is the basic cleaning phase which involves the clearing up and removal of all the unused materials and debris. Our cleaners will get rid of all the waste and unwanted materials from the house or the building. This also includes the removal of stickers and labels from furniture, doors, windows, etc. Unless all this mess is cleared, vacuuming cannot be performed. Once the waste and leftovers have been removed, our cleaners will carry out vacuuming the space.
Light Clean
The second phase of post-construction cleaning requires a great deal of physical labor. In order to carry out this type of cleaning, cleaners need to be equipped with the right set of tools and equipment. Our professionals are well-trained in the use of all the key tools required for light cleanup. 
In this phase, every room of the house or building gets full attention. So, our cleaners will attend to all the rooms including the living room, kitchen, restrooms, etc. All the new installations inside the house will be cleaned in a proper manner. Although this stage is called light cleanup, most of the post-construction cleaning gets completed in this phase in a thorough and professional manner. At VVMaids, we perform this phase of cleaning with modern tools and equipment. This means the phase will be completed swiftly and the house will be just one step away from moving in. 
Final Clean
After the first and the second phases of cleanup are done, it is time for the final stage of cleaning to be done. However, our cleaning procedure involves keeping a gap before the final cleanup gets started.
Waiting for a couple of days is necessary, as it allows the remaining dust and dirt to settle. After 2-3 days, our team of expert cleaners will get started with the final cleanup of the entire house, apartment, or building. Compared to the first and second phases of post-renovation cleaning, this phase takes less time. Most of the major cleanup gets completed in the rough and light cleanup stages. So, our cleaners in this stage will need to clean the spots and fingerprints and any little amount of dust that may have settled after the first two phases. Once the final cleanup is complete, the newly constructed or renovated house or building will be spotlessly clean and ready to move in for family living or business operation.
Why VVMaids is Your Ideal Construction Cleaning Partner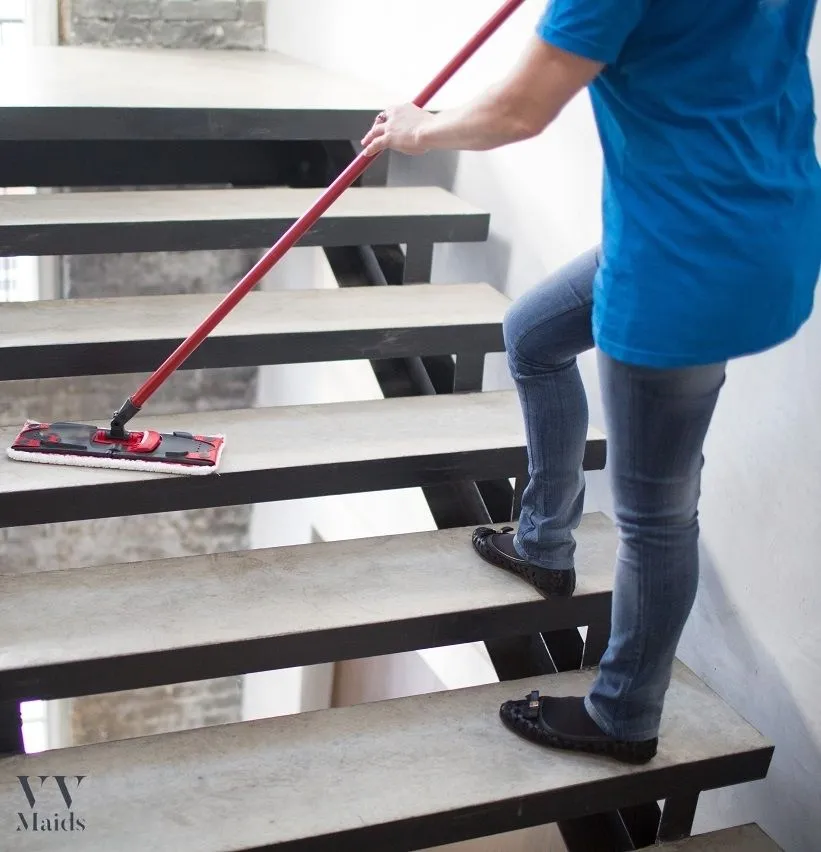 VVMaids is a cleaning company that has set new benchmarks for the cleanup industry to follow. Our cleaners are expertly trained and highly qualified to perform top-quality cleaning in a house or building after the construction project is over. Whether it is the use of modern equipment and tools or cleaning products, our team of cleaners carries ample experience to do a remarkable job. All our cleaners are fully insured and bonded, which means you have complete peace of mind when hiring us to clean your house or building after construction or renovation. Feel confident that the quality of our cleaning will give you 100% satisfaction.
Key reasons you should hire our cleaners include:
Hire highly trained and experienced cleaners

Get high-quality cleaning 

Affordable cost

Use of modern tools and products

Fast project completion
If you plan for top-quality cleaning after construction or renovation while enjoying peace of mind, we are your ideal partner. Most of all, we never surprise any of our clients with hidden charges. Instead, our policy is based on a high level of transparency so that you are aware of the progress of the cleaning task right from the beginning till the end. You'll pay only for the services you need. This means you will not get the cleaning done faster but you will also save money.
Get a Free Cleaning Estimate
If you have construction or renovation work going on in your house or building, do not skip professional cleaning afterward. As soon as the construction company leaves, reach out to VVMaids for high-quality cleaning of the entire space so that it is ready for safe and healthy living. With several years of experience under the belt, our highly trained and qualified team of cleaners will carry out the cleaning task with great attention to detail in a professional manner.
To get a free estimate, you should give our office in and near Commack, NY, a quick phone call or write us an email.