Spring Cleaning Services in & near Commack, NY
There is nothing more satisfying than the time of year when seasons change, windows open, and fresh spring air fills your home. Spring is the perfect time to clean and tidy up your home. Spring cleaning gives you a sense of accomplishment. It makes everything look and smell better. Nevertheless, it's a large task that requires hours of hard work and a careful eye for detail.
House cleaning services offered by VV Maids make your home feel like it's springtime again. Our tools and processes ensure that dirt and germs don't stick around. No matter if it's a one-time quick clean or deep spring cleanup, we can offer the high level of service you need.
What is a spring cleaning service?
It is unclear where the term "spring cleaning" comes from. Deep cleaning is an ancient practice with roots in Iranian, Scottish, Jewish, and Greek cultures. In colder climates, before vacuum cleaners became common, spring was the most suitable time for a cleaning because it was the first chance for people to open the windows to air out dust. On the other hand, nowadays, most people use the term loosely to describe any deep cleaning, no matter when it takes place.
Some people think springtime cleaning is all about mopping, dusting, and vacuuming. While for others, it is disinfecting, scrubbing built-up grime to bring back the shine, and smelling fresh again. However, for Vmaids, a spring cleaning service means all of the above and even more.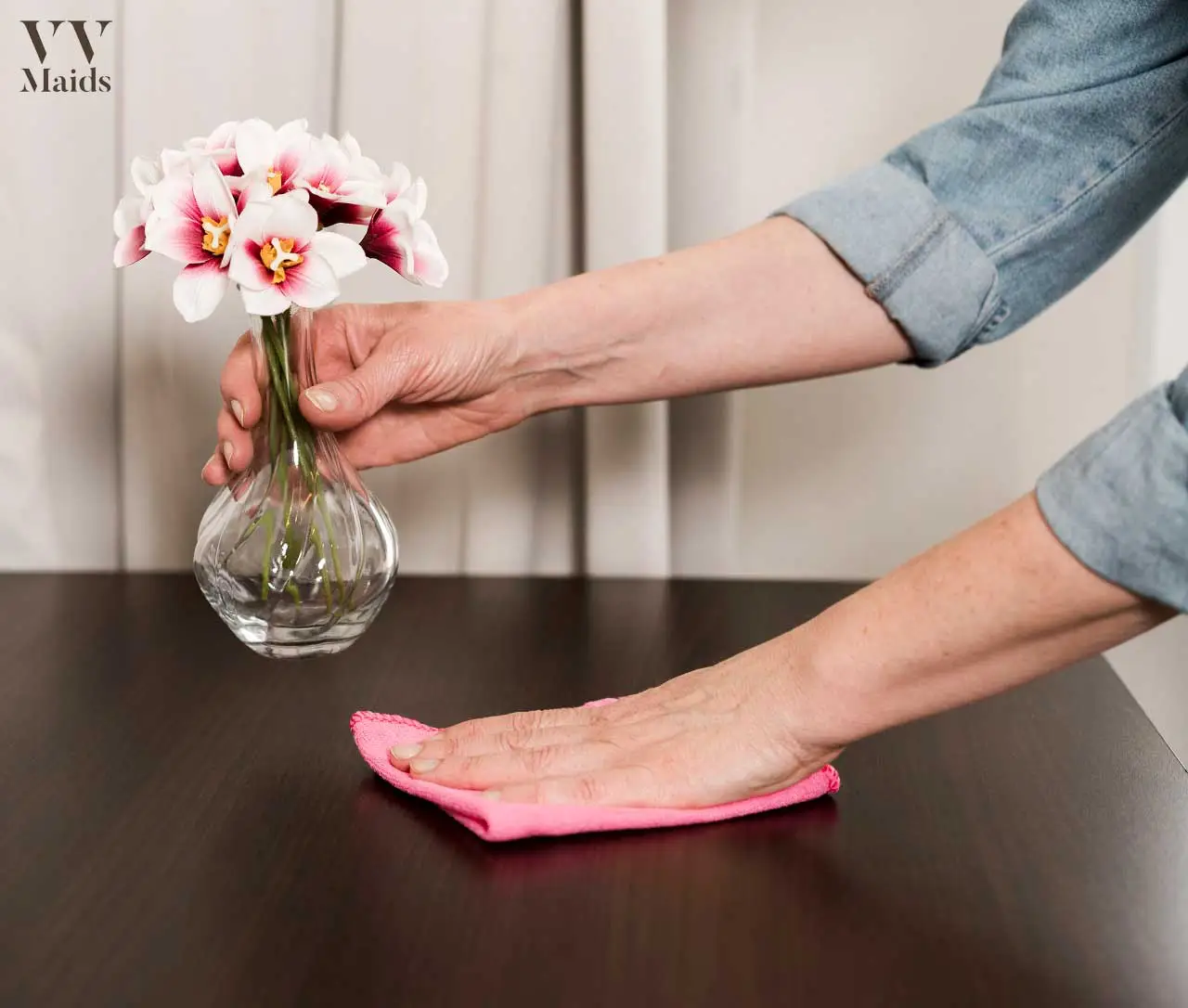 What does a spring clean service include?
VVmaids' spring cleaning service is like breathing fresh air into your home. No more musty odors, dust, or dirt in any season. We mop, scrub, sweep, shine, dust, and sanitize your bedrooms, kitchens, bathrooms, living rooms, and more, whether it's spring or at any other time of year. Besides, our professional house cleaners use comprehensive checklists to make sure every corner of every room in your house is cleaned. Here are just a few things you can expect to be cleaned by us when you hire us for housekeeping services.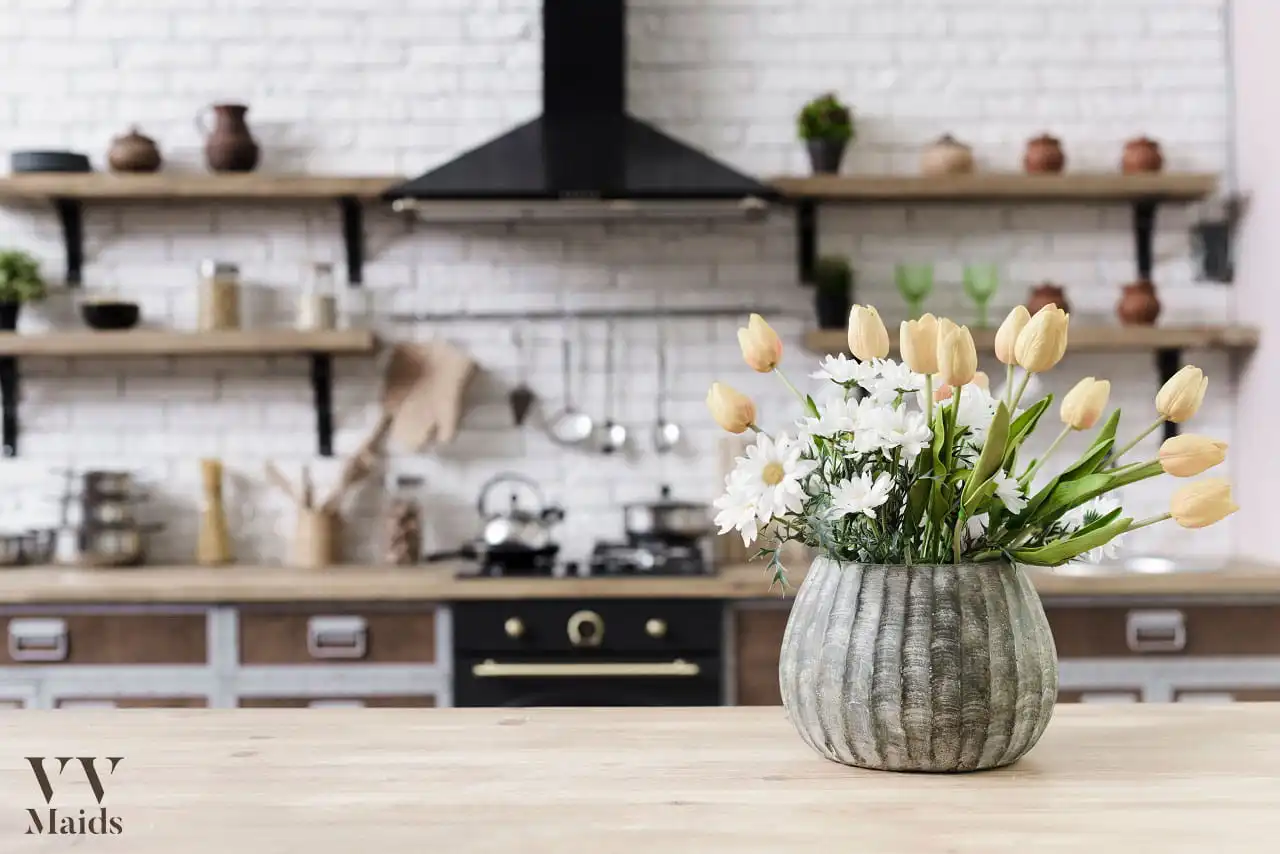 Kitchen 
Kitchen walls

Stove or oven

Kitchen floor

Cabinets and kitchen drawers

Countertops and anything you put on it 

Refrigerator and freezer

Small appliances – blender, coffee maker, Keurig, stand mixer, etc

Faucet and basin 

Sink, drain, and garbage disposal

The trash can and recycling bin
Bathroom 
Bathroom counter and shelves

Gaps between wall, backsplash, counter

Sink, faucet, and drain

Outside of the toilet

Toilet bowl and under the rim

Behind the toilet

Bathtub or shower

Showerhead and tub faucet

Bathroom floor and the gaps between shower/tub and floor, vanity and floor, and deep corners

Trash can

Bathroom mirror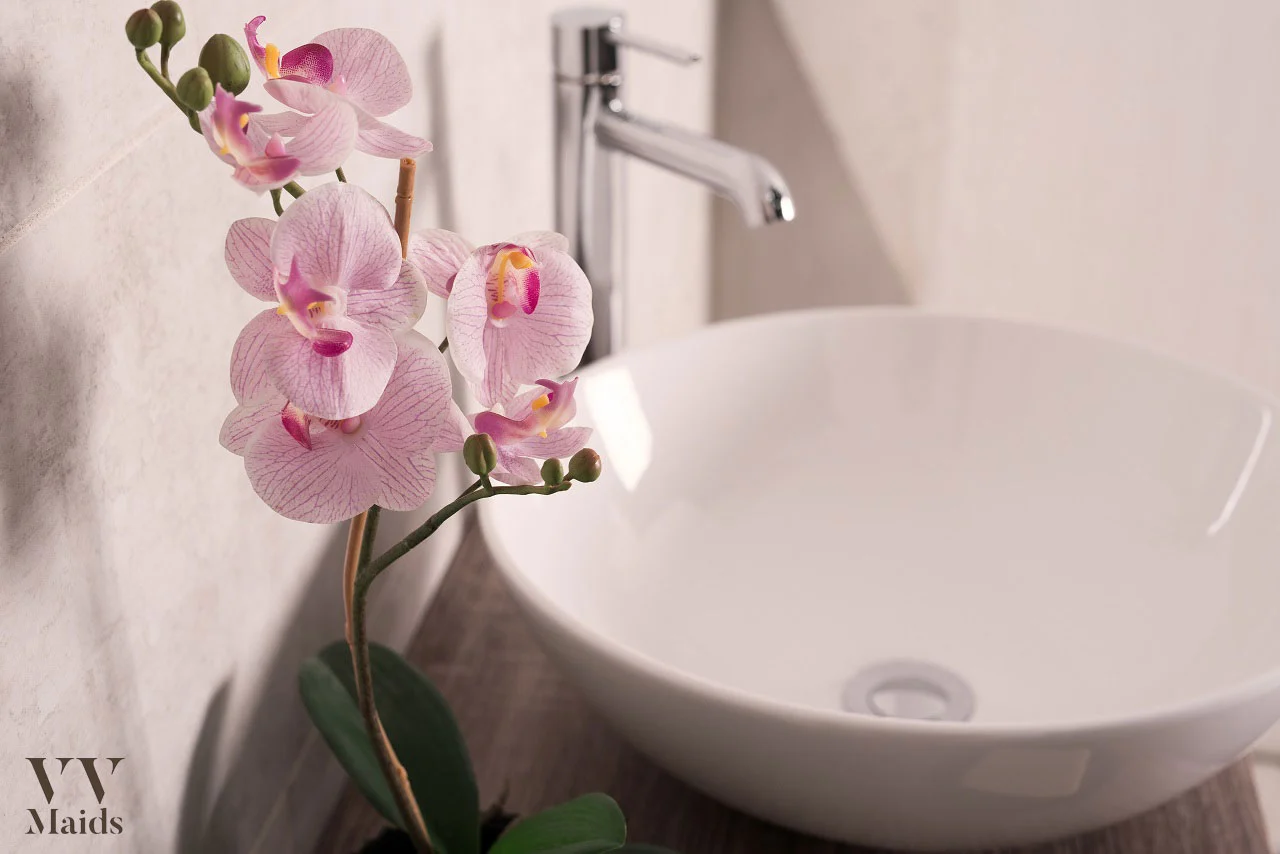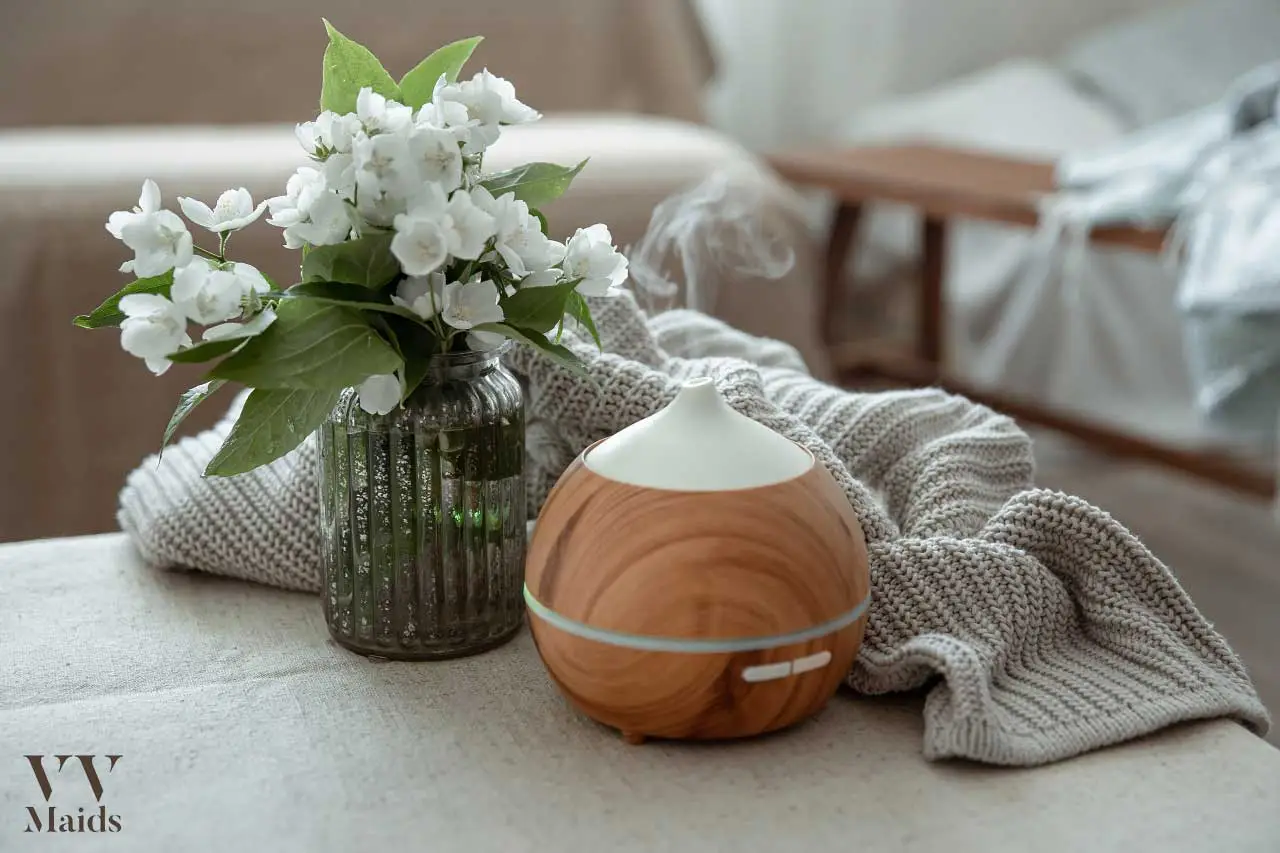 Living Room 
Wood furniture

Shelves and cabinets 

Fat surfaces and décor

Couch and chair cushions.

Fireplace

Chairs and sofa

Remote controllers

Carpets and underneath the furniture
Bedroom 
Bed linens

The mattress

The curtains

Ceiling fan blades and light fixtures

Under the bed

Outside of furniture (dressers, nightstands, etc.)

Closet shelves

Inside of the closets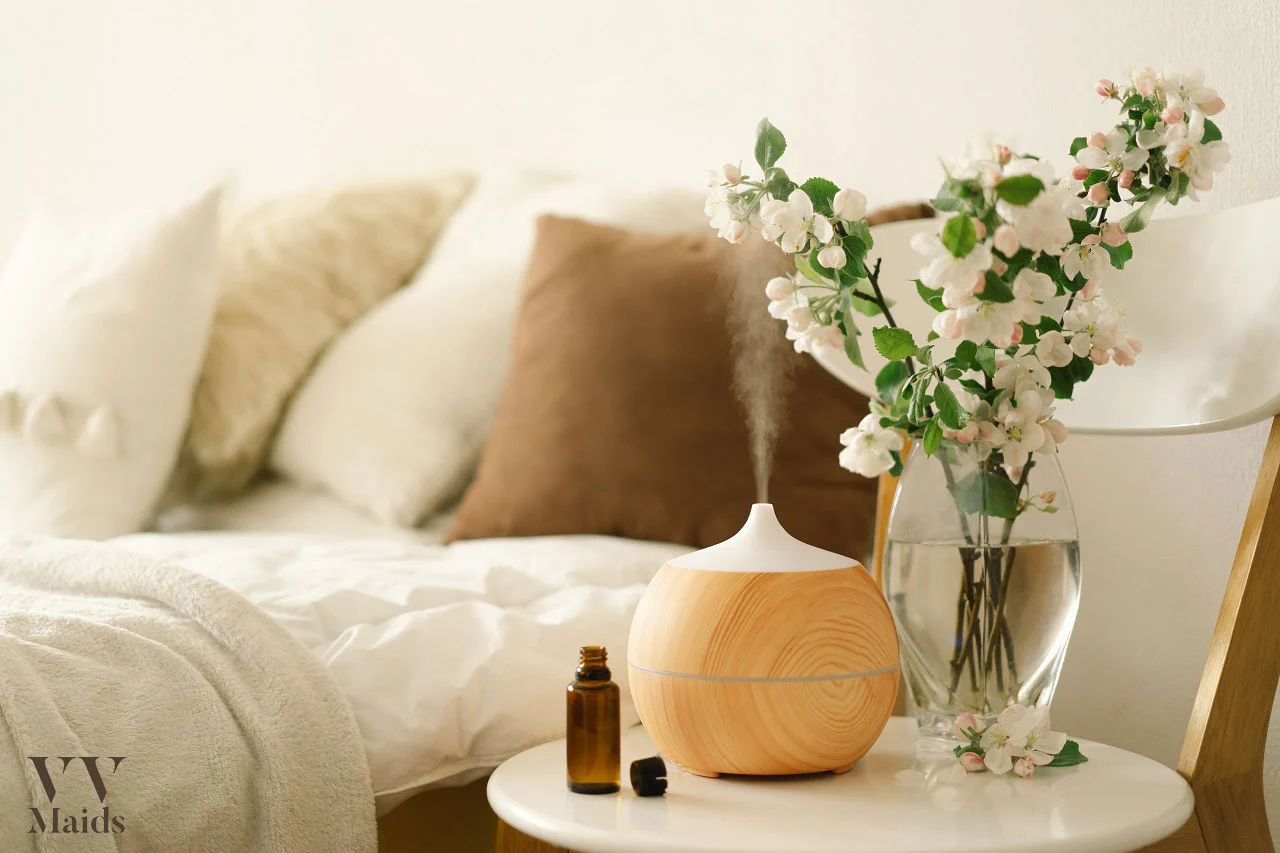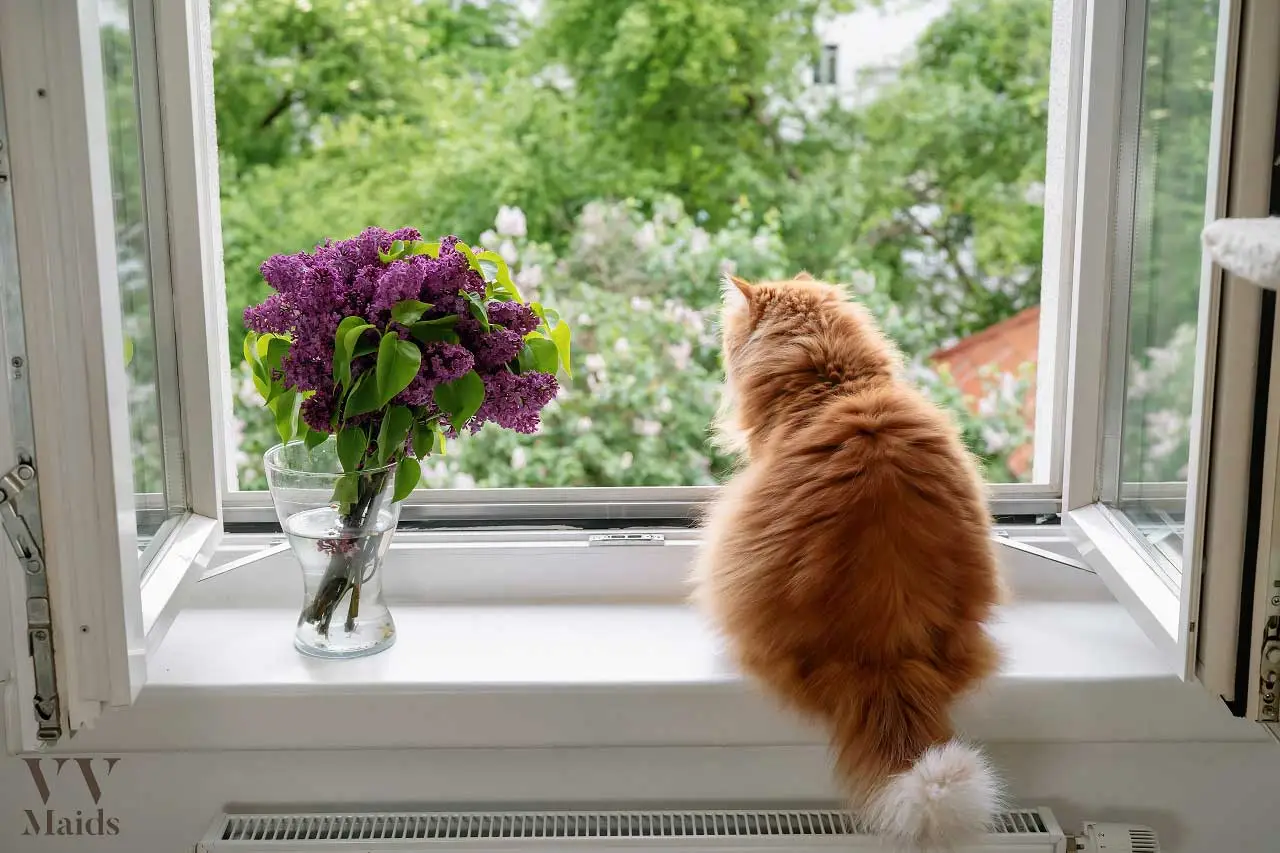 Home office
Your phone, laptop, earbuds, headphones, and mouse

All the screens

Any shelves, lamps, framed art, or other decorative objects

Windows with cleaner and wipe 

Curtains and blinds

Light switches and plates

Hardwood floors

Carpet
Laundry room
Washer and dryer

Soap and fabric softener dispensers

Sink and countertops

Knobs, dials, and buttons

Lint filter

Lint trap

The floor and under the washer and dryer
When should you start spring cleaning?
Even though it's never too early to start spring cleaning, traditional wisdom says to get started as soon as the weather warms up enough outside to open the windows. We are all different when it comes to when we want to start cleaning. Some of us are in no hurry and would rather wait indefinitely, while others cannot wait to get started.
No matter the time of the year, here are some signs your home is ready for a seasonal cleaning:
There is a musty, stale odor in your home

If you look through the blinds, you will see the dust floating

Hard surface floors are gummy or sticky

Door knobs, light switches, and cabinet pulls are covered with grime

Carpets don't smell fresh and look dull

There is soap scum buildup, mold, or mildew in your bathroom

The appliances on your kitchen countertop stick to the surface

Your upholstery smells terrible and looks dingy
How much does a spring cleaning cost?
Our affordable and flexible spring cleaning service will certainly cover you. In fact, it doesn't matter if you need spring cleaning or any other deep cleaning project. Here are a few of the things we look at when creating your customized quote. We certainly do our best to ensure you get the most effective plan for your cleaning needs and one that fits within your budget:
Your home's square footage

How many rooms need cleaning

What kind of flooring do you have in your home

Your home's overall condition

How many people and pets live in your house
You can also get a quick estimate on our website with just a few simple steps.
Why hire our spring cleaning services?
In conclusion, consider hiring a cleaning service if you don't have the time, energy, or desire to tackle a deep cleaning. In a professional spring cleaning, heavier, time-consuming chores are mixed with routine ones like dusting, cleaning the kitchen, scrubbing the bathroom, and cleaning or vacuuming the floors. Aside from regular cleaning, the service will also wash your windows and move furniture so that we can get into every nook and cranny. As a result, a springtime cleaning ensures that you stay healthy and your home is in the best condition all year long.
With this in mind, if you need something more than just a regular home cleaning and want a spring cleaning service in & near Commack, NY, consider us the best option. We'll get into the nooks and crannies of your home, removing dust from places you had forgotten for a clean you'll never forget. Call us now or fill up a short form and schedule your cleaning service!