Cleaning is one of the biggest concerns for guests and hosts of short-term rentals. An unclean home can ruin a vacation before it even begins. However, for hosts, it can tarnish the reputation of their entire business.
A clear game plan will ensure that you don't forget anything when you take on big cleaning tasks like vacation rental cleaning. Even if you do the work yourself or hire professionals, it's important to structure each task and plan how you'll accomplish it.
Maintaining your vacation rental to the highest standards goes a long way toward pleasing your guests and providing a great stay. Your guests will have a much better experience with our Airbnb cleaning services, and more five-star reviews will come your way.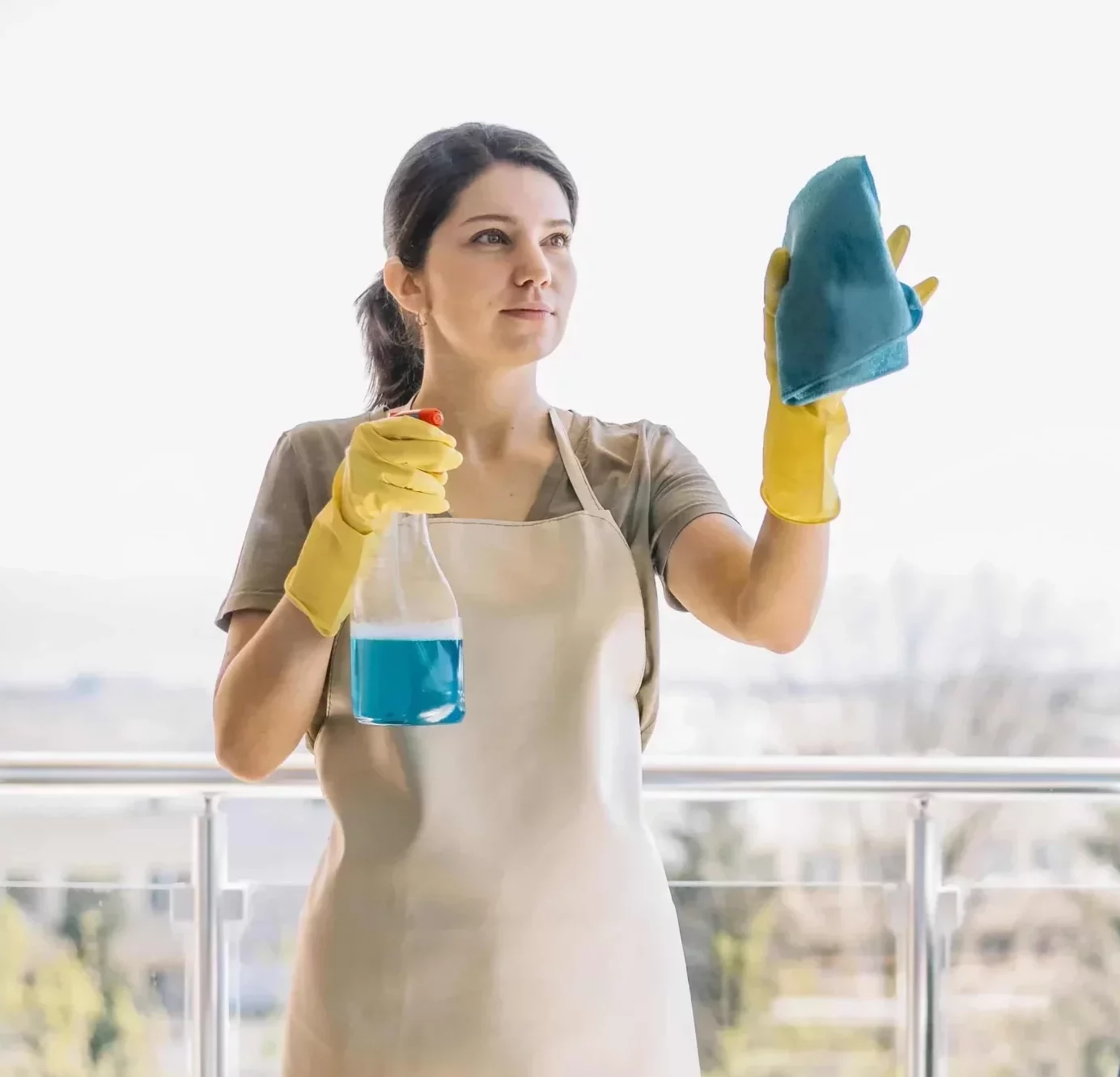 Professional House Cleaners Checklist
A detailed checklist comes in handy no matter how you manage vacation rental cleaning. If you clean your properties yourself or outsource, an Airbnb cleaning checklist will help you ensure perfect cleanliness and get more five-star reviews. 
Cleaning checklists make even more sense when you consider that cleanliness is one of the biggest factors in guest satisfaction. 
Our Airbnb cleaners have done the "dirty work" and used their experience to put together this checklist. Feel free to use it as a template and adjust it to the specifics of your properties. And if you don't have the time to clean between each client, we are more than happy to help. Our Airbnb cleaning knows how to get the job done in no time.
Cleaning Living Rooms
Your guests can relax and socialize in your living spaces. Therefore, to keep your guests happy, you should keep them free and uncluttered. Here is a list of what our Airbnb cleaning company does to keep your living room clean:
Dust the surfaces and polish all the wood furniture

Disinfect and wipe down light switches and all the remotes

Vacuum all the sofas and under furniture

Vacuum the rugs and mop hard-surface floors

Get rid of all cobwebs

Wipe down and clean windows and mirrors

Wipe down baseboards and moldings
Cleaning Dining Rooms
Make sure your guests are focused on the well-prepared dinner they've worked over all afternoon and not on the crusty food stuck between the leaves of the table. On a table like that, eating isn't just unappealing; it's unhealthy.
Remove grime and food from between the table leaves

Make sure nothing is stuck to the bottom of the table

Wipe down all the dining room chairs

Get deep into the crevasses and curves of each chair to remove any dirt or food

Wash the table cloths

Make sure any cloth napkins are clean

Make sure booster seats and highchairs are clean and disinfected

Remove cobwebs and dust overhead lights

Clean any centerpieces thoroughly
Cleaning Bedrooms
Make sure your guests get a good night's sleep so they can enjoy their getaway. To keep your bedroom clean, neat, and tidy, we use these Airbnb enhanced cleaning tips: 
Replace the used linens from slept-in beds with new ones

Clear and take out the trash

Dust and wipe down all the surfaces

Clean the windows and mirrors

Disinfect and clean light switches or remotes

Wipe down and clean light fixtures and ceiling fans

Take everything out of the dressers and closets

Dust and vacuum under the bed 

Sweep or vacuum the bedroom floor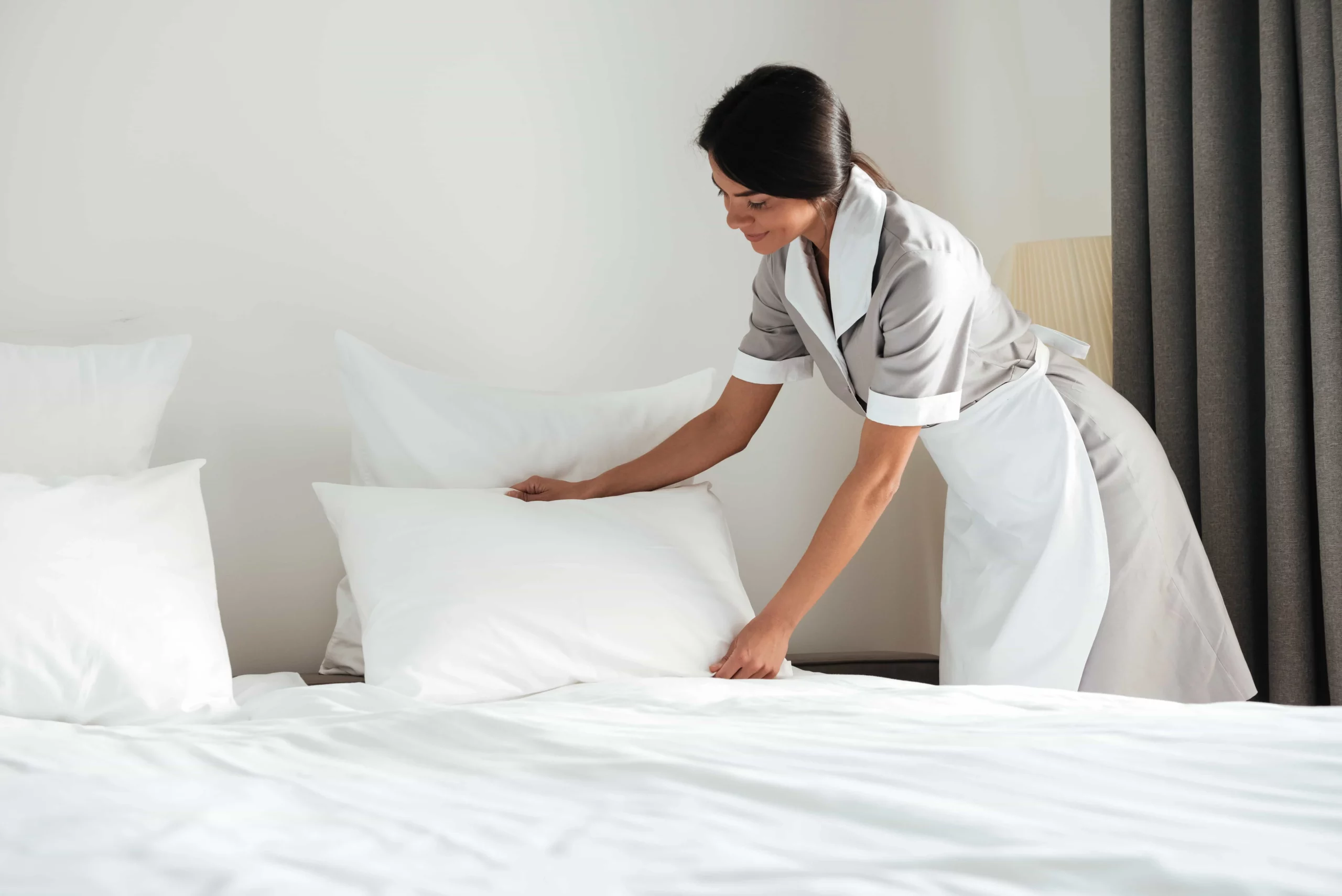 Cleaning Bathrooms
Everyone hates staying in a dirty bathroom, so you should take every precaution to ensure yours is spotless.
Disinfect and clean the toilet

Sanitize and clean tub, sinks, and/or shower

Clean the faucet and the mirror with a window cleaner

Wipe down and clean the tile surfaces and grout

Remove hair or blockages from the tub/shower drain

Launder or change bathroom linens

Replace the shower mats and towels

Clean and restock the bathroom cabinets and drawers
Cleaning Utility Rooms
The laundry and mudroom are often used as entrances to your property, so they can get soiled and need to be cleaned regularly.
Make sure the dryer is free of trash and lint

Wipe out the washer and dryer

Clean the knobs, buttons, and doors of the machines

Clear out the sink drain and wipe down the sink

Clean and wipe down the windows and blinds

Fill up on cleaning supplies, laundry detergent, and softener

Make sure the baskets or drying racks are clean and ready to use

Dust moldings and baseboards

Vacuum and clean rugs and floors
Cleaning Kitchens
One of the main reasons travelers prefer Airbnb vacation rentals over hotels is the well-furnished kitchen. It is always a good idea to give your kitchen a deep clean, and here are a few of the tasks our Airbnb cleaners do: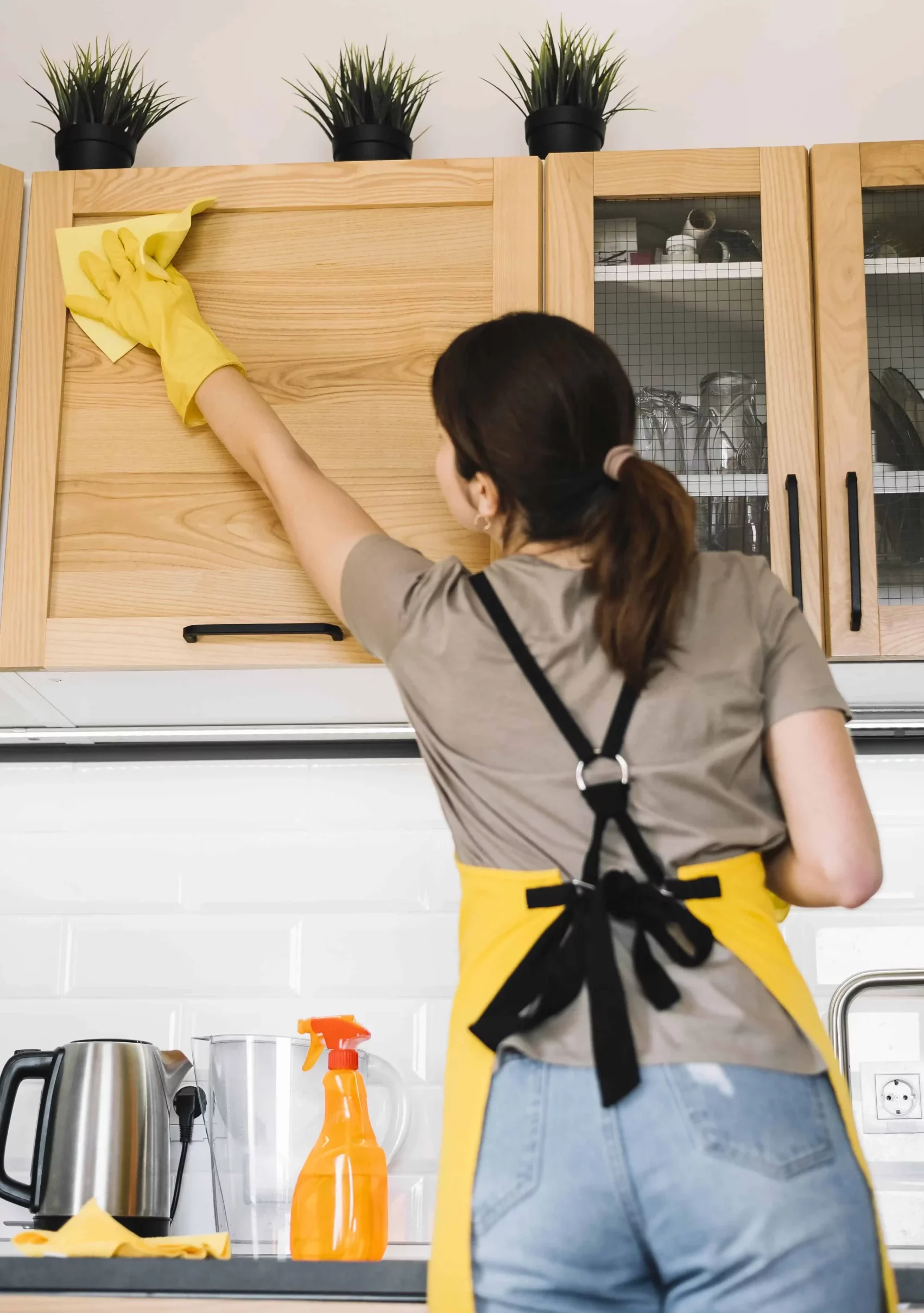 Wash and disinfect all the outsides of the appliances, drawers, worktops, and cupboards

Clean all the utensils 

Dust and wipe down the oven and stove

Clean vents and hoods 

Wipe down and clean the inside and outside of the microwave

Clean the inside of the refrigerator

Clean the sink and sink drain

Throw away any leftover food

Remove the dirty garbage bag and replace it with a clean one

Wipe down and clean the windows and mirrors 

Mop and sweep the floors
Cleaning Windows and Doors
You can't advertise the amazing view of your rental home if your guests can't see it from the dirty, streaky windows.
Regarding the front door of your house, it is going to be the first impression of the house that guests will have. It should be a good one, shouldn't it? Here is what our Airbnb cleaners would do: 
Wipe and clean the glass interior of the windows

Clean the window frames and tracks thoroughly

Get rid of dust from curtain rods

Wash or vacuum curtains if necessary

Disinfect all doorknobs and handles

Dust and wipe door frames, especially the tops

Keep the kick plates of exterior doors clean
Cleaning the House Exterior
When guests enter your property, they will see the exterior, so you want to make a great impression and set the standard for the rest of the house.
Keep outdoor areas free of fallen leaves and branches, trim bushes and mow the lawn regularly, and keep any outdoor furniture clean. Our Airbnb cleaners will give extra attention to your house exterior by following these tasks:
Remove debris and weeds from the garden

Remove bird droppings and dust from lawn furniture

Wash and clean chair cushions

Make sure the pool is free of leaves and debris

Clean safety railings and ladders leading into the pool

Remove burnt-on food and drippings from the barbecue

Clean up patios

Disinfect outdoor tables and eating areas 
While vacation rental cleanliness has always been important, the COVID-19 pandemic placed it front and center. It's important to plan every detail of your vacation rental cleaning, whether you do it on your own or hire an Airbnb cleaning company. If you need cleaning services in & near Commack, NY, contact us, and we'll make your vacation rental fresh and fully booked!
Frequently Asked Questions
How often should I clean my Airbnb rental property?
It's recommended to clean your Airbnb rental property thoroughly between guest stays. Depending on the property's occupancy, this could mean cleaning after each checkout or, for longer stays, at least once a week.
Can I clean my Airbnb property myself, or should I hire professional cleaners?
You can clean your Airbnb property yourself, but many hosts prefer to hire professional cleaners for efficiency and consistent quality. Professional cleaners can follow a detailed Airbnb cleaning checklist to ensure thorough cleaning.
What are the essential cleaning tasks for Airbnb hosts?
Essential cleaning tasks for Airbnb hosts include dusting, vacuuming, mopping, disinfecting high-touch surfaces, cleaning bathrooms, changing linens, and ensuring the kitchen is spotless. Exterior cleaning for outdoor areas is also important for curb appeal.
What should I do if I have a back-to-back booking and limited time for cleaning?
If you have back-to-back bookings and limited time for cleaning, consider outsourcing the cleaning to professionals who specialize in quick turnovers. Alternatively, communicate with guests about check-in and check-out times to allow for thorough cleaning.