It is logical to outsource your house cleaning task to professionals. A cleaning company carries expertise in different types of cleaning and completes the task in a swift manner. There are multiple benefits of hiring a service provider to tidy up your home, apartment or office. Most importantly, it improves the quality of your life saves you a lot of your precious time. Before you hire a cleaning service, you should definitely have some idea as to how much it is going to cost you.
The cost of cleaning services depends on several factors. Determine what exactly you want them to do so that you can plan your budget properly. Most of these services are affordable for property owners though.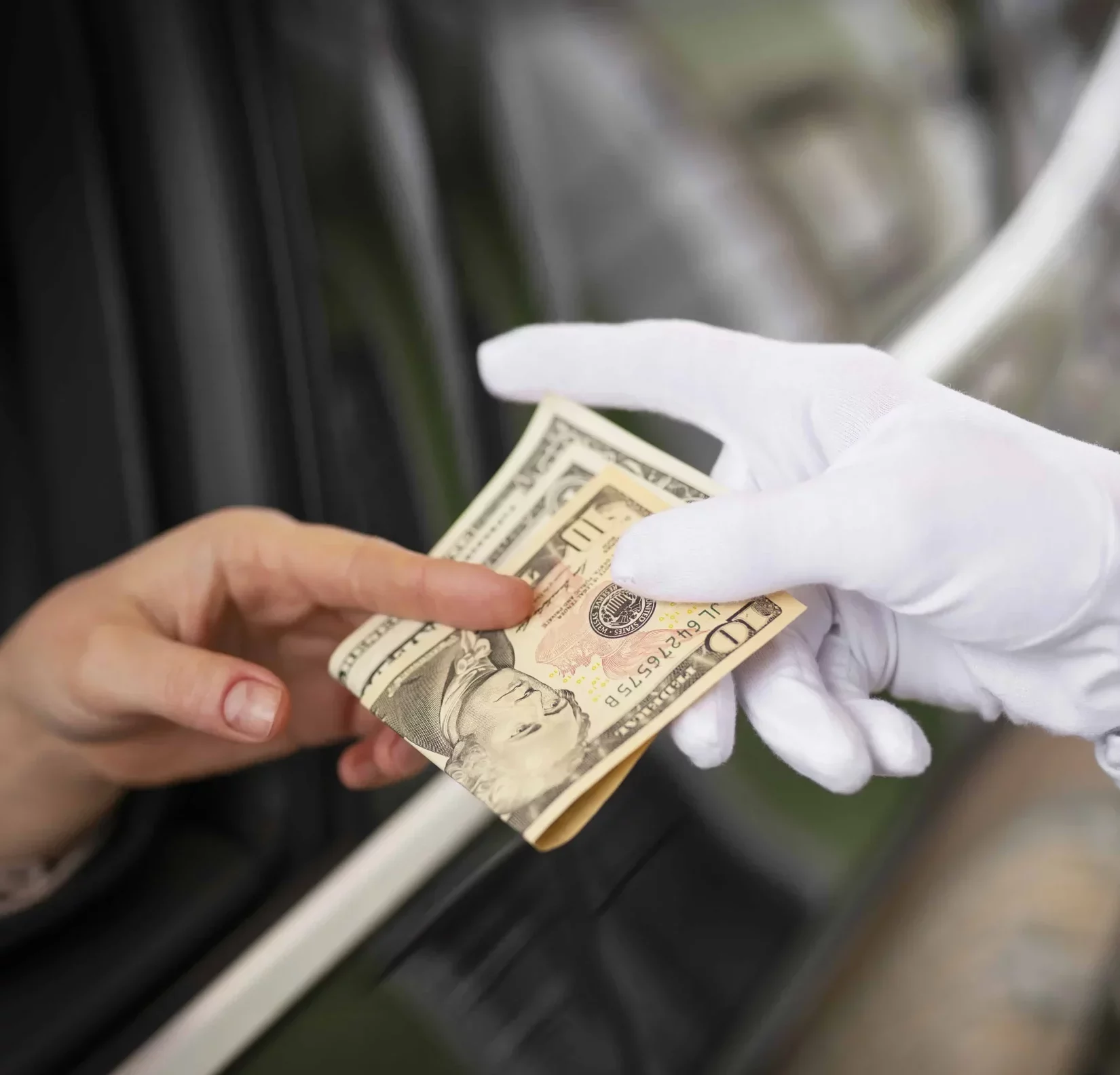 Factors that Affect Service Cost
Let us dig a little deeper into how cleaning companies charge. Given below are some of the key factors that play a role here. 
Location of Your Property
Charges for cleaning across all locations are not the same. Homeowners living in different cities may have to pay a different fee. You should expect higher cost for the service in cities where the cost of living is high. Likewise, you will find that the cleaning fees are lower in smaller cities and towns. For example, cleaning service cost in Colorado is higher than it is in Tennessee.
The average hourly rate for house cleaning ranges between $50 and $90 per cleaner.
The prices vary depending on where exactly you live in the United States. The rates will increase for deep cleaning.
Amount of Mess or Dirt
How messy or dirty your home is will also affect the cost of cleaning. Small family homes are often less messy than properties with large families or greater number of occupants. Also, if your place has not been cleaned in a month, cleaning the property will take a lot more time and effort.
Size of Your Property
Do you live in a small house or a big apartment? Yes, the size of your property will certainly play a crucial role in determining how much you are going to pay for the service of a cleaning company. 
You may be residing in a house, apartment, condo, or mansion. Before you start to plan the budget, you should definitely consider the overall area of your property. If you have a large residential property, it is going to take more time and additional supplies for proper cleaning. That is the reason why many maid service providers charge on the basis of the square footage of the home.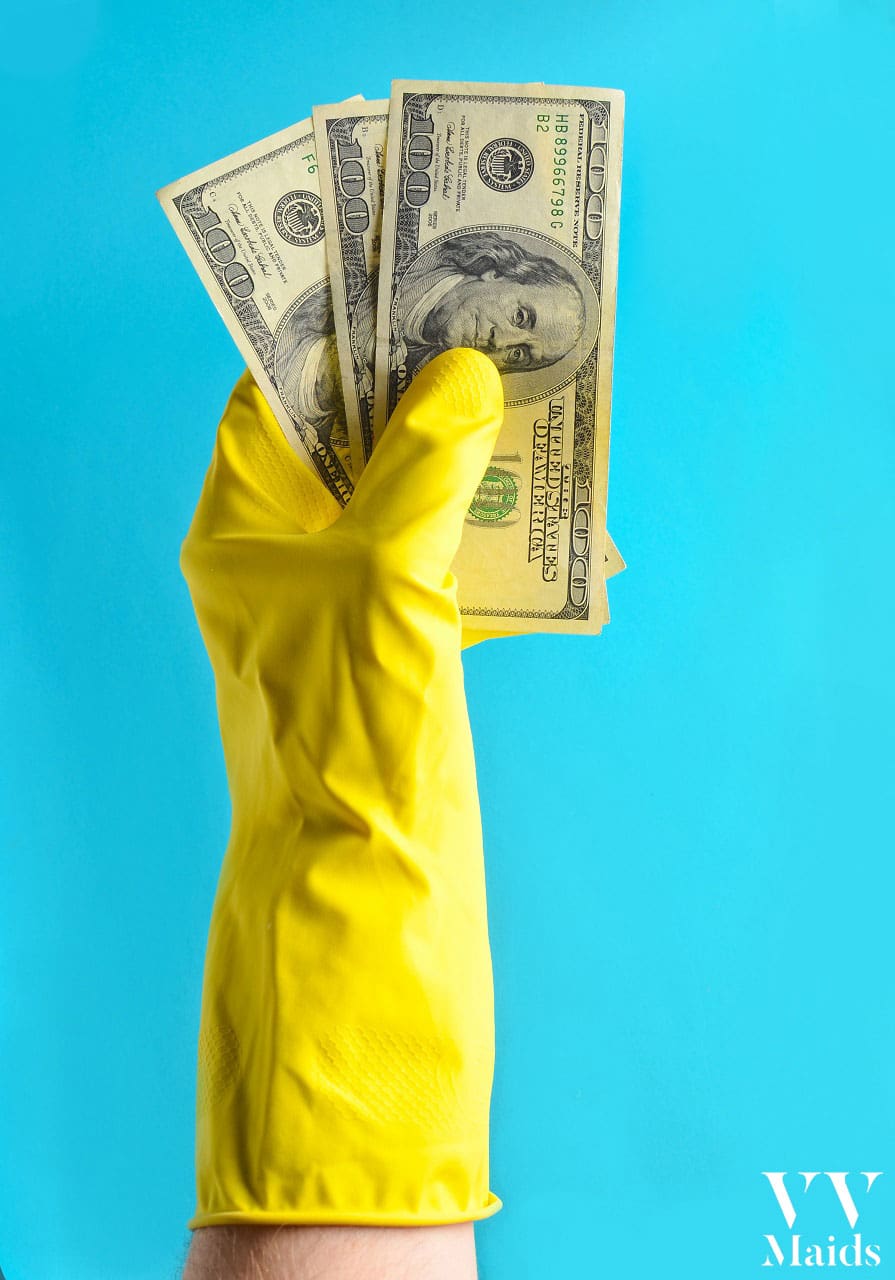 Type of Cleaning
Whether it is a residential property or a commercial place, the cleaning required by them varies. A cleaning company offers multiple types of cleaning such as general or basic cleaning, deep cleaning, one-time cleaning, move-in cleaning, move-out cleaning, etc. It is for you to determine which type of cleaning you are going to need for your property, house, or apartment.
Basic or routine cleaning is the cheapest of all. This is a cleaning which is commonly needed by most homeowners. If your home is not very dirty or messy, a routine cleaning will prepare it for the arrival of guests. Deep cleaning is needed when a home is left uncleaned for a long period. This is elaborate cleaning that involves lots of washing, vacuuming, scrubbing, etc. Since deep cleaning requires a lot of physical effort and time, it is more expensive than basic cleaning.
Likewise, there are different charges for move-in and move-out cleaning and cleaning done after construction work is finished.
Other Factors
These are not the only factors that affect the rate of cleaning. How many times a maid or a cleaning lady visits your property will also lower or increase the charges. If you are getting maids on a regular basis, the cost of service will come down. This is because less effort will be required in each visit.
Prices will also vary depending on whether you choose to hire maids from a local service provider or a large company. Going with a local expert in or near your city is a good idea. Large companies are well-known and they often charge a higher price from their clients. Whether it is a local agency or a big company, what matters at the end of the day is their professional experience. If you choose a small cleaning company which has ample experience, you can expect to get the job done well while also paying less money than you will pay to larger agencies.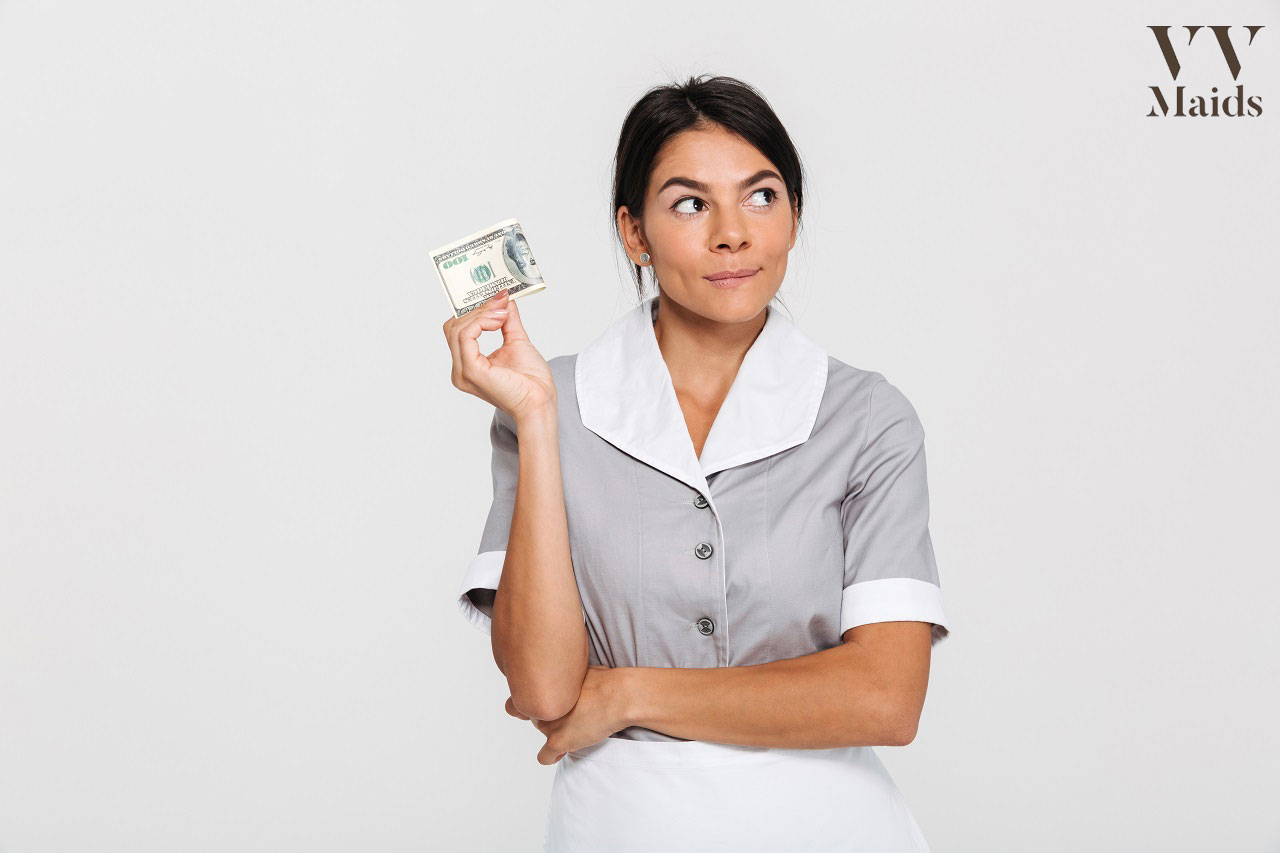 Cleaning Industry Follows Two Pricing Methods
When it comes to hiring the services of a house cleaning company, you will find that there are two pricing methods. Some companies charge their clients by the hour while others charge a flat rate.
Flat pricing often comes along with a checklist of cleaning tasks. The list includes a number of tasks to cover your entire property. This is a method where you will pay the charges upfront to the company. The flat rate is based on the number of rooms you have in your house or apartment or as per the total square footage area of your place. If you go with this method, you will have a clear idea of how much you are going to pay for the cleaning service, ahead of time.
The second pricing method is charging by the hour. In this case, you will have the liberty to decide exactly how many hours you want the maids to work in your house. Or else, you can just let the maids do their work and then calculate the total number of hours worked and pay accordingly. This type of pricing method works well for many people who know which specific areas of their house need cleaning. If your cleaning will be done in just a couple of hours, you do not need to go with the flat rate method and keep the maids working all day. In many cases, it is not easy for a service provider to quote an accurate flat price. That is where working by the hour works quite well, both for the homeowner and the cleaning service.
Example: Cost of Cleaning
VV Maids offers a range of cleaning services both for homes and offices. Operating in and near Commack, NY, the company provides a free estimate to clients who need a reliable cleaning service.
The company charges its clients on a per-hour basis. Their rate for cleaning is $115 per hour. This includes cleaning of your house by two professionally trained cleaners. If you plan to hire their hourly service, you are required to hire their maids for a minimum of two hours. As mentioned before, this pricing method allows you to stay fully aware of how much you will be paying.
Do You Have More Questions?
Hopefully, you have a good idea by now as to how a cleaning service will charge their client. If you have additional questions or are in search of a high-quality and reputed cleaning service, you should head straight to VV Maids. You can contact us via phone call or fill out a form.
For easy budgeting, feel to ask one of their professionals for a free estimate of the task you want them to complete.
Frequently Asked Questions
What factors affect the cost of professional house cleaning?
The main factors are the size of your home, level of mess, type of cleaning, frequency, and your location. Companies also consider the number of rooms and bathrooms.
How much should I expect to pay for basic house cleaning services?
For a basic cleaning of an average-sized home, expect to pay $80-$150 per cleaning. Regional prices vary. Deep cleaning or large homes costs more.
Do professional cleaners charge by the hour or a flat rate?
Cleaners may charge either hourly or a fixed rate based on square footage. Hourly allows you to control the time while fixed rate gives predictable pricing.
Should I negotiate the quoted cleaning price?
For standard cleaning tasks, the quotes are usually fair. You can ask about bundle pricing or discounts to try to lower the rate.