Turning a chaotic construction site into a livable or workable space involves paying close attention to the finer points. Post-construction cleaning isn't just about getting rid of dirt; it's about creating a clean and welcoming environment.
In this article, you'll learn about the process of after builders cleaning and understand how a construction site turns into a space that is comfortable and free from distractions. Each cleaning stage acts as a vital piece of a puzzle, contributing to creating a place that radiates warmth and serenity.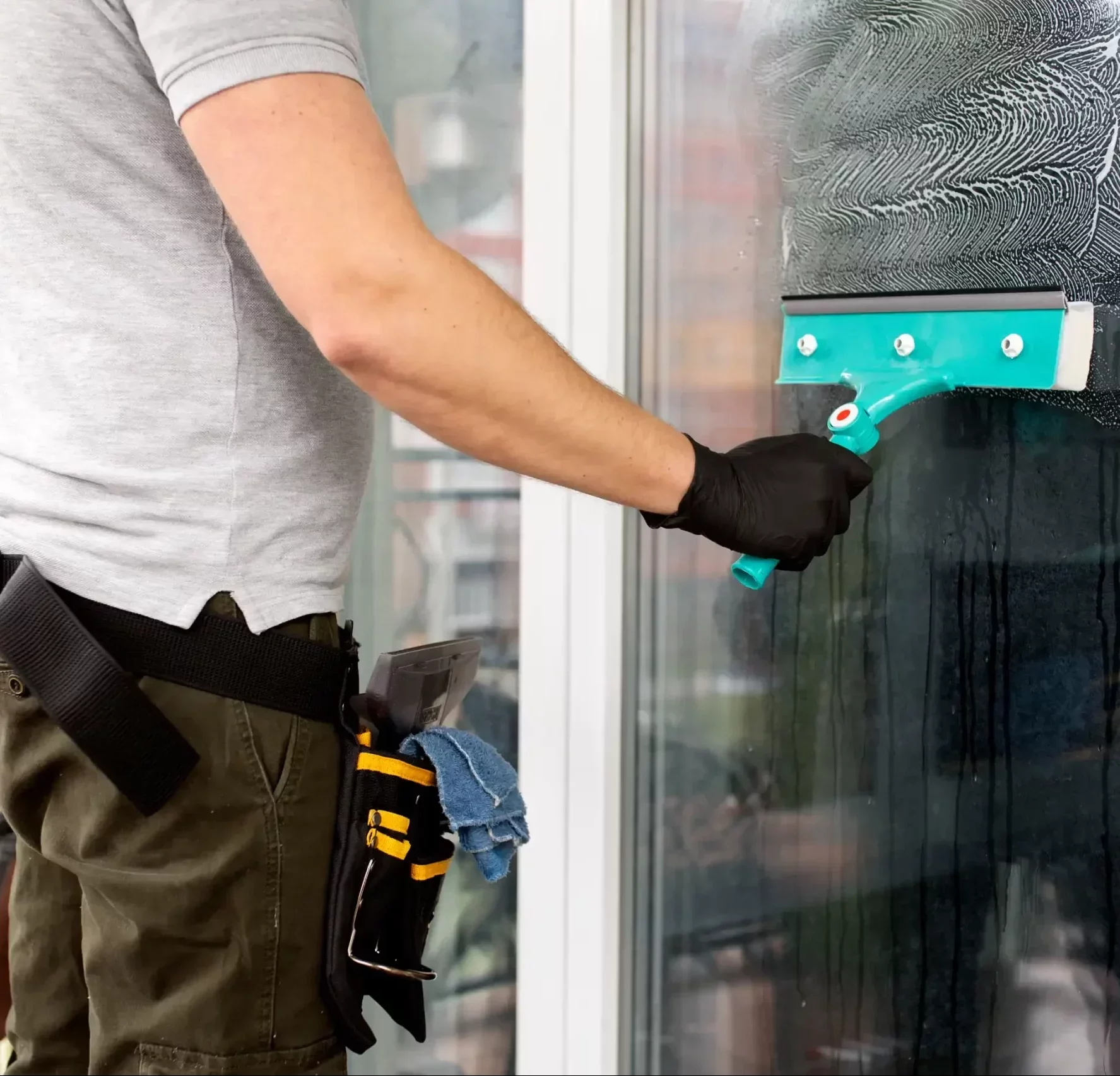 Construction Cleaning Process: Transforming Chaos into Comfort
1. Surveying the construction site 
Our first step is to conduct a comprehensive survey of the construction site. This helps us determine if any specialized cleaning equipment is needed to start our work efficiently.
2. Providing Safety Equipment
Prioritizing safety is crucial. As professional cleaners, we ensure that we have all the necessary safety equipment and gear on hand to address potential hazards effectively.
3. Removing Debris and Construction Materials
Then we start with removing large debris and construction materials from the site to create a clean and safe working environment. This might involve getting rid of any remaining building materials, tools, or equipment.
4. Minimizing Dust During Cleaning
We use a broom or a vacuum equipped with a HEPA filter to remove dust. When it's possible, we open the windows to let fresh air in.
5. Cleaning Windows and Glass Surfaces
We clean windows, glass panels, and mirrors to get rid of construction smudges and any paint splatters, adhesive residue, or grout haze.
6. Taking Care of Floors
We always use a suitable cleaning method based on the flooring you have, such as mopping, scrubbing, or steam cleaning. We also make sure to remove all the paint or grout haze.
7. Making The Bathroom and Kitchen Shine:
We make sure the bathrooms are super clean, with everything from the fixtures to the tiles all sparkly and fresh. In the kitchen, appliances, countertops, and sinks are cleaned to a perfect state, making them ready for use.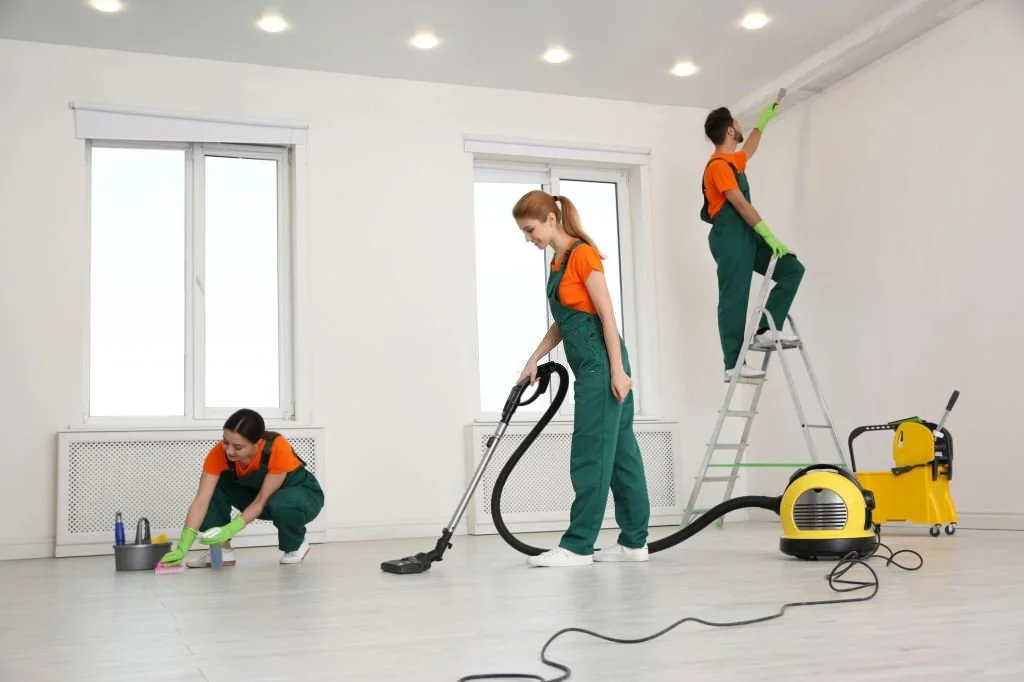 8. Cleaning up HVAC System
Throughout the Construction Process, dust and debris frequently gather in HVAC systems. By cleaning these systems, we create a comfortable living environment with better air quality and proper functioning.
9. Refreshing Baseboards
We wipe down all the baseboards, trim, and moldings to get rid of any dust or dirt that's built up.
10. Looking for Unnoticed Dirty Spots:
We do a final thorough check to make sure we didn't miss any spots that still need cleaning to make sure that the place is completely clean before we leave.
11. Taking Care of The Trash
We take extra care to properly dispose of all the garbage and debris that's created as we clean up after the renovation. All the dust, dirt, packaging materials, and waste gets collected and hauled away so you're not left with a mess after we leave.
12. It's Your Turn to Make Your Place More Welcoming
Finally, it's your turn to make your place feel more inviting. All you have to do is add some small decorative touches or bring in indoor-friendly plants to enhance the overall charm of the space.
Why Should You Hire Post-Construction Cleaning Services?
Safety
Cleaning construction sites can entail handling potentially hazardous materials or garbage. Professionals are trained to prioritize safety and to use the appropriate protective equipment.
Regulatory Compliance
Cleaning professionals are aware of any local or industry-specific regulations that apply to building site cleaning. They can guarantee that your site fulfills all of the standards.
High-Quality Results
Professional cleaners come prepared with specialized tools to attain an elevated standard of cleanliness and hygiene, effortlessly tackling even the most stubborn stains.
Cost-Effectiveness
While hiring professionals comes with a cost, it can be cost-effective in the long run due to the time saved and the better quality of cleaning.
Elevated Appearance
When professionals clean, it can make a big difference in how the area appears, helping to create a friendly and appealing space.
Peace of Mind
Knowing that experienced professional cleaners are taking care of construction cleaning provides peace of mind. It ensures that your space will be clean, safe, and ready to use, so you can focus on doing more important tasks.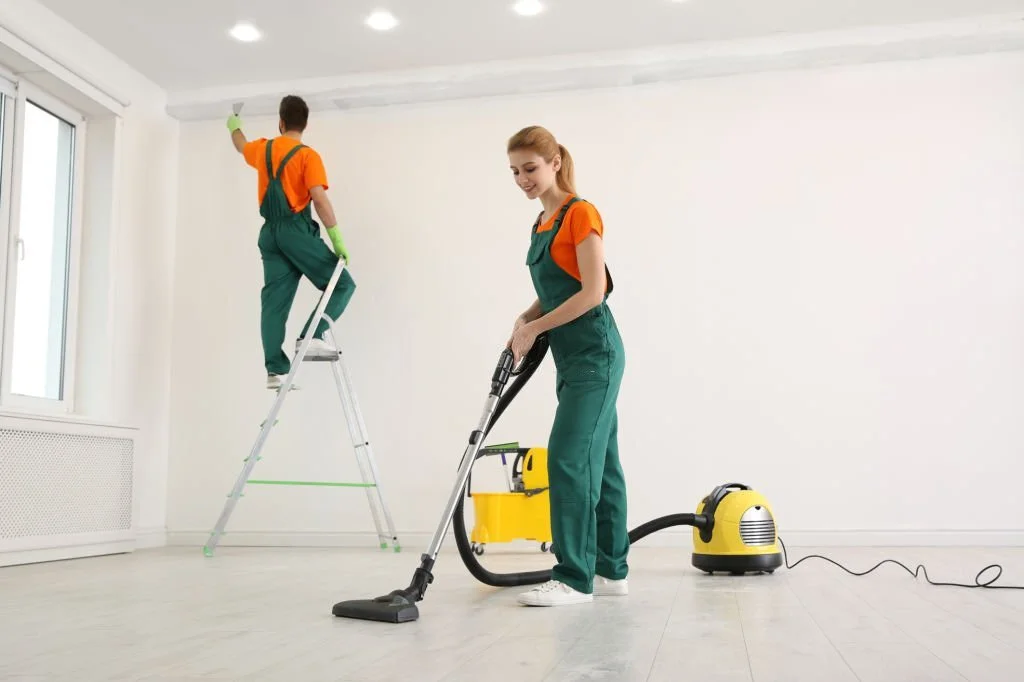 Transform Your Space with Flawless Cleanliness
If you want your place cleaned to perfection, our professional cleaners at VV Maids can help. We provide post-construction cleaning services in and around Commack, NY. With our expertise, we can quickly transform your construction site into a clean and appealing living or working space. Just give us a call, and we'll be there to assist you.
Frequently Asked Questions
How do cleaning services maintain safety during post-construction cleaning?
Our cleaners wear protective gear like gloves, goggles, and masks. We ventilate areas, identify hazards, use stable ladders, handle chemicals safely, disconnect electricity, lift properly, and protect eyes and airways. We come prepared with first aid kits and know how to dispose of waste.
How can professional cleaners effectively eliminate construction debris?
They begin by removing huge debris and items from the site and then remove any residual building materials, tools, or equipment. This step creates a safer and cleaner working environment.
Does post-construction cleaning require special equipment?
While some common tools can be used, specialized cleaning equipment is more effective and efficient, especially for cleaning up after construction.
Can I do post-construction cleaning myself?
You can clean the space on your own, but construction sites contain many hazards. Hiring professional cleaners is likely safer and more thorough since they have specialized equipment, expertise in identifying risks, and experience with construction messes.